We decided that Andrew's 10th birthday deserved an extra special celebration.  I mean, turning 10 is a big deal!  He had 8 of his friends spend the night (let me tell you, it was LOUD at our house that night!)  and we also had a family celebration.  At his family birthday party the night before his actual birthday, we gave him an envelope with our Great Wolf Lodge reservation for his birthday night!  So early the next morning we loaded up and headed to Grapevine, TX.  We arrived on his birthday, played all day, spent the night in the "wolf den", and played at the water park all day the next day.  It was the perfect amount of time!  We were able to do everything we wanted to in the water park numerous times and the boys played MagiQuest as well!  It was such a fun getaway and a perfect way to celebrate our favorite 10 year old!
The Oklahoma City Memorial Marathon was a family affair for us this year!  Jason, Justin, my dad and I all ran the half marathon while my mom ran the kids' race with the boys.  The weather was perfect and it was such a fun day.  It's always so moving to see all the people who come to run the race in honor of family members, friends and fellow Oklahomans who were injured or killed in the OKC bombing in 1995.  As the race started and we ran with thousands of others past the bombing memorial, I was reminded of the verse that says "You meant evil against me, but God meant it for good."  Genesis 50:20
I can't really even begin to describe our Spring Break trip adequately in a blog post and I certainly can't upload even a fraction of the pictures we took.  We spent the week in Anaheim, CA so we could take the boys to Disneyland, but also were able to do lots of other fun things while we were there.  We were able to visit  the Griffith Observatory, the California Science Center where we were able to see the Shuttle Endeavor, play at the beach and explore China Town and Hollywood.  Our main reason for going was to see the new "Cars Land" that opened last summer.  In true Disney fashion, they have recreated (down to the last detail!) Radiator Springs from the movie Cars.  The main attraction in this section of the park is the brand new Radiator Springs Racers where you are actually in a race with another car full of other people and it was AMAZING!  Even though the lines were insane, we got to the park early and used FastPasses and were able to ride it 5 times while we were there.  🙂
In no particular order, here are a few memories from the trip that we will cherish forever: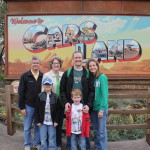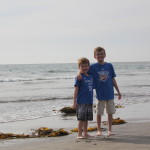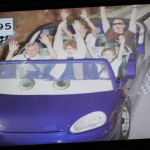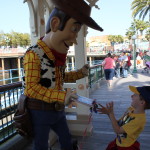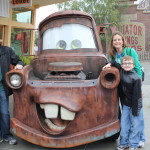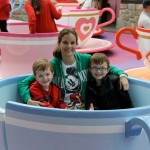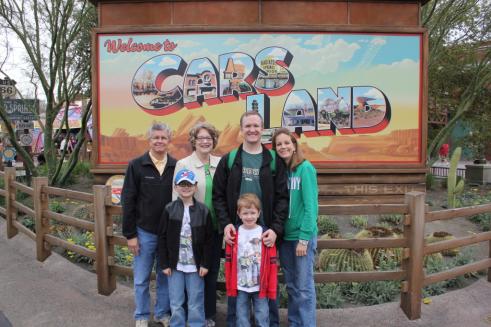 We spent our spring break in California this year and couldn't have asked for a more perfect vacation! We spent time at the beach, the California Science Center, La Brea tar pits, Hollywood, Griffith Observatory and of course, Disneyland & Disney's California Adventure! "The Real Radiator Springs" according to Noah was the highlight of our trip. We loved Cars Land and rode Radiator Springs Racers 5 times! Fun times and forever memories!