We decided that Andrew's 10th birthday deserved an extra special celebration.  I mean, turning 10 is a big deal!  He had 8 of his friends spend the night (let me tell you, it was LOUD at our house that night!)  and we also had a family celebration.  At his family birthday party the night before his actual birthday, we gave him an envelope with our Great Wolf Lodge reservation for his birthday night!  So early the next morning we loaded up and headed to Grapevine, TX.  We arrived on his birthday, played all day, spent the night in the "wolf den", and played at the water park all day the next day.  It was the perfect amount of time!  We were able to do everything we wanted to in the water park numerous times and the boys played MagiQuest as well!  It was such a fun getaway and a perfect way to celebrate our favorite 10 year old!
As most of you know, birthdays are a big deal in our family!  Andrew chose to have a Super Mario themed birthday this year and we celebrated all weekend long!   Here are some the things that we packed into Andrew's 8th birthday weekend in no particular order:  breakfast at the donut shop, water balloons, slip 'n slide, Mario Sports Mix tournament, backyard campout with a few buddies, swimming, Andrew's favorite meal of homemade Kraft Macaroni & Cheese (he could have chosen anything in OKC or Edmond!), Sunday School party with his favorite cookies – snickerdoodles (his teachers this year are the best!), family party, more Wii, building some new Lego sets, lots more cool presents, and lots of cake!  The best part of the weekend for me was when Andrew saw the cake and decorations I had been working on and said, "I think I need to pinch myself to make sure this is real!"  I love that boy!
Click here to learn the proper way to brew tea.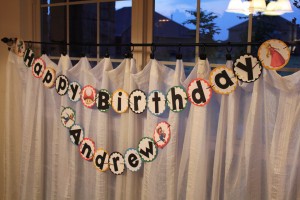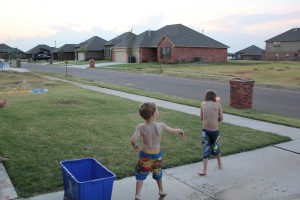 Easter is always a happy time; how could the celebration of the risen Savior not be? This year, though, was the best one yet! This year, we watched Andrew be baptized. On March 27, Angela and I had the pleasure of leading him to the Lord, a culmination of many years of praying.  To see him step into the baptistry and share his commitment to the Lord with our church family made this an Easter we'll never forget. Definitely one of our proudest moments as parents…
Loading the player…