I know it's been over two years since we've posted here, and I planned to post something about Noah's recent birthday, oddly enough, but something better has come up.
When we got home from church last Sunday night, we were reading through the Christmas devotional guide our church provided when Noah told us that he had accepted the Lord! During the invitation after the choir/orchestra program, he said he felt God was wanting him to accept Him and that he finally got the courage and did it. The rest of the evening he was, in his words, "excited and happy". Needless to say, we were too.
He's also beyond excited to be baptized, which will be done in the 11:00 service this Sunday at Quail Springs Baptist Church​. Andrew was baptized at Easter, and now Noah will be baptized at Christmas. That timing is pretty awesome.
Funny side note: Yesterday morning, Noah wanted to wear a specific shirt to school. It has an 8-bit Atari feel to it and says "Jesus is a game-changer." I saw that on him and said, "He *is* a game changer." Noah replied, "Yup, and He changed my game last night!" So cute.
Thanks for reading and stay in touch with us for more news!
This past weekend we celebrated Noah's 7th birthday!  He chose a "Jake and the Neverland Pirates" theme, which turned out to be really fun and easy to decorate around.  We had a family party at our house and then a party with some of his friends from school and church at our neighborhood clubhouse.  Unfortunately, the weather did not cooperate and there was an inch of ice on the playground, but we still had great fun!  The boys made pirate swords and hooks, dressed up like pirates, walked the plank, dug for treasure and made treasure maps.  My mom made Noah's amazing pirate ship cake and cupcakes and he had so much fun celebrating all weekend long.  Happy Birthday to our sweet little pirate!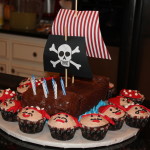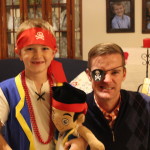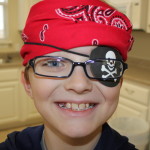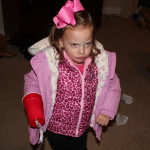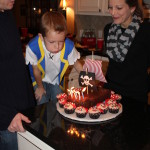 When Noah announced that he wanted to play Upward flag football INSTEAD of soccer this fall (we only do one sport at a time!), I could hardly believe it.  I wasn't sure how much he would like it and I definitely wasn't sure if I would like it, but it has been a wonderful experience.  Noah is loving every minute and insisted that we get him a mouth guard and some receiver's gloves last week so he could look and play like the "real football players"!  Just like other Upward sports we have been involved with installment loans for bad credit at yahoo finance, the emphasis is on learning the game and having fun.  I love that they memorize scripture and have a devotion time at each practice and game. I'll leave you with just a few pictures (ok, more than a few, but I just love all of these!) that really capture how much Noah is loving this game!  Yesterday his team played a double header and he ran the ball the length of the field for a touchdown and had 4 really great "tackles"!
We officially have 2 scouts living at our house now!  That means double the fun of scouting, but also double the amount of popcorn we have to sell.  🙂  We haven't gone door to door yet, but looking at these fine boys in their uniforms, I can't imagine that anyone will be able to say no!
If you would like to buy some popcorn (you don't have to buy the $50 tin even though that's the one Noah will point out first!), please let us know!