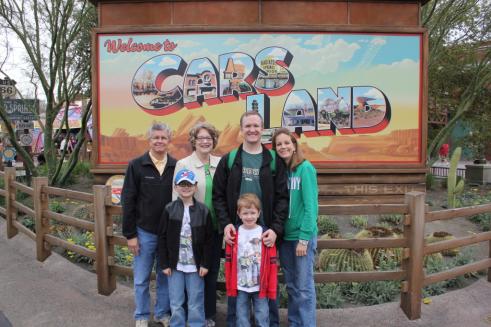 We spent our spring break in California this year and couldn't have asked for a more perfect vacation! We spent time at the beach, the California Science Center, La Brea tar pits, Hollywood, Griffith Observatory and of course, Disneyland & Disney's California Adventure! "The Real Radiator Springs" according to Noah was the highlight of our trip. We loved Cars Land and rode Radiator Springs Racers 5 times! Fun times and forever memories!
On the spur of the moment, we decided to get away for Fall Break. Jason had the idea to try to take in an NFL game and since Dallas wasn't playing at home last weekend, that left us with Kansas City. We found pretty cheap tickets online and decided to take off on a road trip! Thanks to Google, we found tons of fun things to do around KC and we had a blast! We managed to tour a cavern, go to a Children's Museum, a Science Museum (much like the Omniplex and free with our membership!), visit a Children's Farm that turned out to be an awesome experience for the boys, go to a play of Richard Scarry's BusyTown, and eat at several very cool and unique restaurants including a Cartoon Cafe and a train restaurant where your food was deliivered by train! We also fit in a little shopping and of course, the football game on Sunday!
What started out as a quick road trip without much planning turned into an awesome vacation for all of us! Kansas City is definitely a place that we'll be visiting again – you should too!
Here are just a few pictures from our trip!
We took a lot of video on our trip. We won't make you watch all of it, but here is a sampling of some of our favorite parts. We've only gone through one tape so far, so we might be posting some more in the future. Time will tell. For now, the videos:
As you can see from our San Francisco and Disneyland pictures (only a small sample of what we actually took!), our California vacation was unbelievable! It really was like a dream trip. Both of the boys were such troopers and were just happy to go and do everything. Sweet little Noah would go as far as he could and then just quietly fall asleep in his stroller. 🙂
We have so many memories from Disneyland that it's hard to pick our favorites. Here are just a few things we'll never forget…
Andrew's reaction to seeing Lightning McQueen in the Pixar Play Parade, "I didn't know Lightning McQueen was REAL! I thought he was just pretend!!!"
Andrew realizing he was tall enough to go on the "adult roller coasters" like Matterhorn and Space Mountain
Andrew's reaction to Space Mountain, "I've always dreamed of being out in space, but it was too dark and too fast!"
Noah spotting Donald Duck across the park and quacking at the top of his lungs (until we got within a few feet of him!)
Riding Buzz Lightyear Astro Blasters 7 times with Andrew and his genuine surprise when we "got" Zurg at the end every time!
Andrew getting a higher score than Mother on the Astro Blaster ride!
Andrew meeting Buzz and telling him that he had beaten Zurg twice and Buzz "saying" "Two times! Thank you!".
Noah shouting "bubbles" over and over and over on the Finding Nemo Submarine Voyage and "tweeting" the whole time in the Tiki Room.
Jason finally getting to meet Donald! Donald was his favorite character as a boy and we didn't get to meet him when we were at Disney World. It was like he was 5 again! 🙂
Andrew singing along and dancing to all the songs at the Playhouse Disney Stage Show. It was all his favorite shows (Handy Manny, Little Einsteins, Mickey Mouse Clubhouse and My Friends Tigger and Pooh) live on stage and it was almost more than he could handle!
Our family being chosen at random in the "Year of a Million Dreams" Sweepstakes to win Mickey Mouse Ears!
It was a magical vacation, but now it's back to the real world. Luckily it's still a world where I get to spend every day with the boys, so I can't complain. And thanks to a special delivery from Mickey, both boys have an autograph book with pictures of all the characters we met, and we have been looking at them A LOT!
We've started the official countdown to our Disneyland vacation! T-minus 2 weeks!!! We wanted to wait until it was fairly close to tell Andrew and we wanted it to be special. So we sent him on a treasure hunt with clues all around the house. He had to look in almost every shoe we own and even out in the mailbox at one point! The "treasure" was hidden inside his Mickey Mouse Clubhouse and it was 2 matching Mickey t-shirts and a sign that said "Surprise, we're going to Disneyland!". He couldn't believe it and just kept jumping up and down! We had quite a time getting him to bed that night! 🙂
We'll be going to San Francisco with Jason for JavaOne for the first part of the trip and then driving down to Anaheim when his conference is over. We cannot wait!
At any rate, here are a few pictures from March, April and some from Easter. I'm sure we'll have tons to upload when we get back from California. Who knows… if we have internet access at our hotel, maybe we'll even post some while we're gone. We'll see!