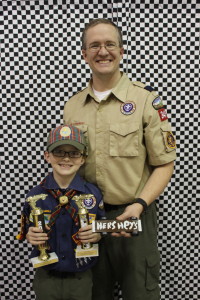 One of our favorite things about Cub Scouts is, of course, the Pinewood Derby!  Last weekend Andrew participated in his 4th Pinewood Derby race and won his 4th straight trophy!
Andrew's car (which he designed, cut, and painted with minimal help from Jason) won 1st place among the Webelos scouts and 3rd place in our whole pack.
So proud of these engineers!!!